A young adult prayer group from Midleton parish will travel on pilgrimage to a monastery in France for a week in August (6th – 13th) this year (2018). Young adults from other neighbouring parishes are welcome to join the group. The age group is 18 to 35 yoa. A small number of places are reserved for those in the 35-45 yoa age bracket.
The pilgrimage is to Lagrasse Abbey, a stunning 13th century monastery, where the group will stay, pray, hike, enjoy ice-cream and engage in bible-study and catechesis.
Lagrasse is a small town in the Aude region in southern France and is numbered among the "most beautiful villages of France". The climate is Mediterranean.
Lagrasse Abbey is home to the community of Canons Regular of the Mother of God, the majority of whom are priests who live in common under the Rule of St. Augustine, and dedicate their lives to the liturgy. The quality of the liturgy, including the sublime singing, is known far and wide and will be a joy to behold for the travelling group of young adults from Ireland.
The outward flight will be with Ryan Air from Cork to Carcasonne on 6th Aug (12.55pm) arriving in Carcassone where a coach will carry the group to Lagrasse Abbey.
The return flight will be from Carcasonne on 13th Aug arriving in Cork at 5.30pm.
The cost of the pilgrimage is roughly 500 euro (inclusive of flight, connecting bus and bed and board in monastery). This figure may be broken down as follows:
186 euro (Cost of return ticket from Cork to Carcassonne with Ryanair) *
314 euro (Cost of monastery bed and board and connecting bus)
* If you will be allocated a place on this pilgrimage, you will then be asked to book your flight yourself through Ryanair. The 186 euro flying fee is based on Ryanair ticket prices on 25/07/2018. If, at the time you book, the price of the Ryanair ticket has increased or decreased then your overall pilgrimage fee will be increased or decreased by the same amount.
There are a limited number of places for the pilgrimage, so book early for this unmissable trip.
Flight details (click image to enlarge):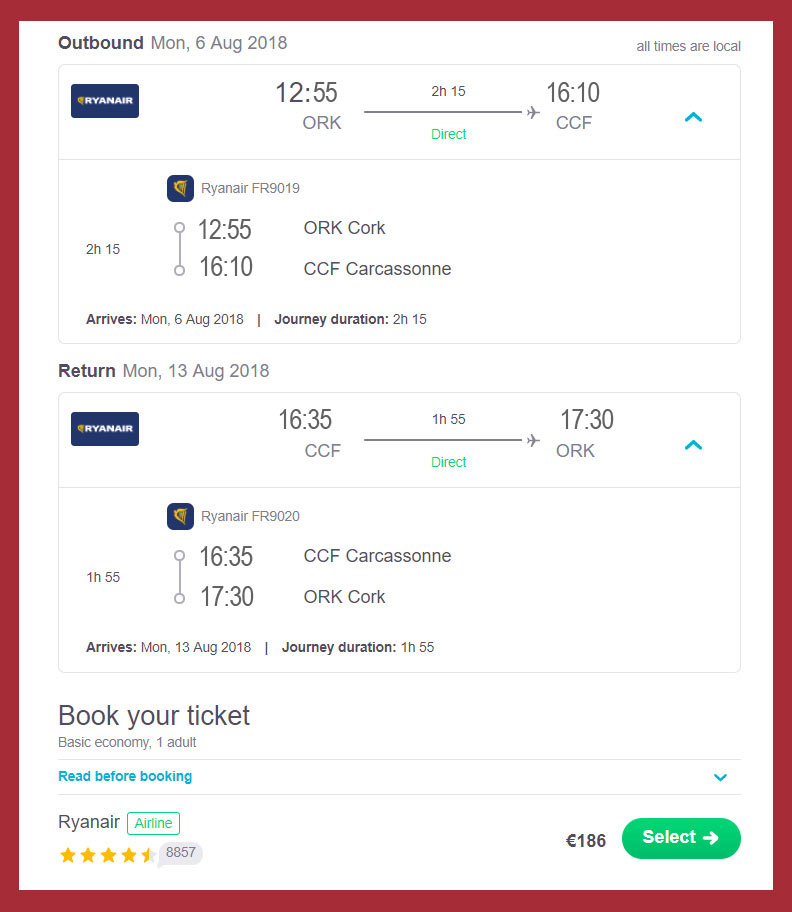 Each day will have a program of activities in which the members of the group will be expected to partake as best they can. There will, of course, be plenty free time also for rambling around the beautiful and quaint French town and enjoying the sights and scenery and deepening friendships with the other members of the pilgrimage.
To enquire or book a place telephone Fr Eamon Roche on 086 9972539. Fr Eamon will be the spiritual director for the pilgrimage.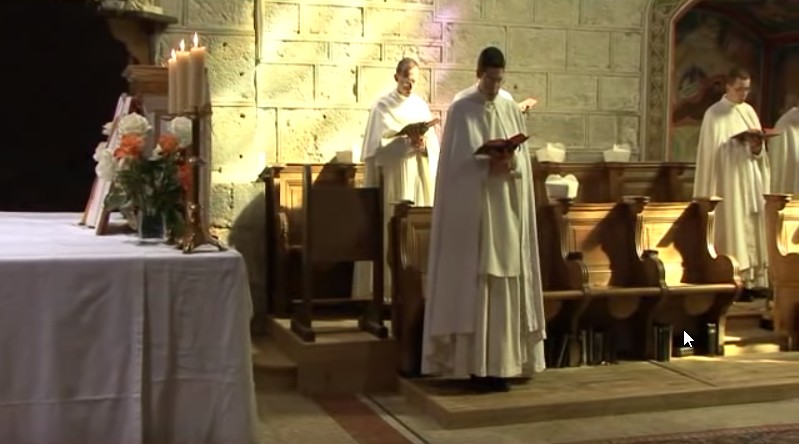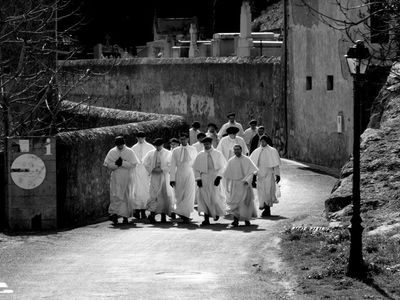 What to bring:
– As a suggestion: can we aim to be at Cork airport by at least 11am next Monday (the flight is at 12.55). This will then give us a little bit of time to meet and get acquainted).
– Your passport
– Some people like to take out travel & health insurance when travelling. That is entirely up to you.
– Check-in online with Ryanair before you come to the airport so that you bring your Boarding Pass with you to the airport (to save you a fee….you can still come without your boarding pass but they probably would charge you something). You can obtain the boarding pass from 48 hours to 2 hours pre-departure. Follow the links on the email that Ryanair sent you when you purchased your ticket. Your boarding pass can be printed or saved on your smartphone if you have one.
– Bed clothes, including sheet and blanket and pillow. Fr Eamon will bring a large canvas bag if anyone wants to put pillow in that (so it wont take up all the room in your suitcase). Let me know beforehand if you want me to take your pillow in this bag.
– Bring your own towels and all your own bathroom lotions.
– Bring swimwear if you want to swim in the river that flows through the town – its very popular with the locals. See photo.
– We will dine out for dinner twice in the week, including the first night. Otherwise we are cooking ourselves. If anyone would like to cook, bring your recipe. If you'd prefer not to cook then peeling potatoes or washing will be an alternative.
– Sun glasses, sun cap, sun tan lotion, light clothes for hot weather.
– Runners for hiking in the hills. The paths are relatively smooth so strong boots wont be necessary.
– No need to bring a bible or catechism (unless you really want to). All study material will be supplied.
– If you are going to use a smartphone for your alarm clock then don't forget that the electrical sockets will require a "foreign adapter" which you could pick up at the airport.
Typical Day:
We will start with this daily plan and adjust as the week goes on, if necessary.
8:00-8.20 Morning Prayer (Laudes) with Monks
Breakfast can precede or follow morning prayer, keeping the fast before Mass
9.30pm Mass with Monks
10:45am – 12.15 First Study Session
12.15noon – 12.45pm Free Time
12.45pm Midday Prayer (Sext) with Monks
1pm Lunch
2pm – 3pm Solitary Hour (silent time for prayer, find a shade, hottest part of day)
3pm – 4.30pm Second Study Session
4.30pm – 6.30pm Dinner Preparation (some of group, as per rota, the others will have FREE TIME)
6.30pm Evening Prayer (Vespers) with Monks
7pm Dinner
8pm: Hike and Rosary